Editorial stylist for Hollywood

Jennifer Johnson works for publications like i-D, Purple, Vogue, Elle, Vanity Fair, Flaunt, Sportswear International, London Telegraph or Vice, advertising clients such as Nike, Adidas, Apple, Sony, Volkswagen or Audi, and musicians like Bonny Prince Billy (video 'Cursed Sleep') or Morrissey (music video 'Irish Blood English Heart').
The Hollywood production 'Beginners' is now the fourth movie where the stylist (born in New Mexico) contributes her fashion knowhow as a costume designer.
The message of the movie is that everyone's chances and choices in life and love are personal decisions.
The comedy/drama 'Beginners' by writer/director Mike Mills is partly autobiographically. The author's 75 years old father unveiled after the death of his wife, to whom he was married 45 years long, that he is gay.

The movie tells the story how Oliver (Ewan McGregor) 'rearranges' his view on life and develops a new humor taught by his father Hal (Christopher Plummer) which strengthens the love of Oliver to his new girl friend Anna (Mélanie Laurent).
fig. original: Ewan McGregor and Mélanie Laurent - in the movie Oliver and Anna, sitting on a table, dining together; movie scene from 'Beginners', written and directed by Mike Mills. In the middle of the pair sits terrier Cosmo, who plays Arthur. Universal Pictures International (2011).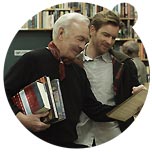 fig. original: Hal (Christopher Plummer) and Oliver (Ewan McGregor) in a bookshop; movie scene from 'Beginners'. Universal Pictures International (2011).

Video: Trailer 'Beginners'; the movie started already in summer 2011, comes in August to Greece, Singapore, 16 September in Austria, 30 September in Norway...



Source: Original article with images and video on http://www.fashionoffice.org/culture/2011/beginners8-2011.htm.


more fashion.at/mobile>

News from
July 2011
June 2011
May 2011
April 2011

subscribe
terms
imprint

(C) Sawetz, since 1996