Collaborative fashion, media education projects
Education goes in Vienna to the streets and to archives for the reflection of history into nowadays. The manifestations of two educational programs are now in exhibition.
Fashion and the infrastructure of Vienna are the themes of a collaborative museum project consisting of scholars of the Gymnasium Landstraßer Hauptstraße (academic high school) and students from the Academy of Fine Arts. One group of the collaboration presents new contemporary designs inspired by the fashion collection of the Wien Museum. Another scholars-students group researched the differences between historical city maps and Google maps with the main interest in topographical changes and the delivered content (information) by historical and modern maps. From 1 December 2011 until 15 January 2012 the results of the museum-students-scholars collaboration are exhibited under the title 'Stadt Lernen' at the Wien Museum Karlsplatz.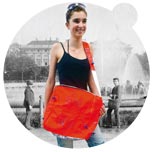 fig. original: Images 'Helena Altmann with water wings bag' and 'Hochstrahlbrunnen at the Schwarzenbergplatz, ca. 1900' from the collection of the Wien Museum in a photo montage, 2011. (C) Wien Museum.
The multi-media work with audio-CD and installation at the Gymnasium Stubenbastei is the result of another project which was developed from historical research. The members of the school's educational program 'Centropa' studied the displacement of Jewish Stubenbastei-scholars in 1938. Object of the research is the archived mail correspondence of the emigrants between 1938 and 1942 after the displacement from Austria. The permanent exhibition 'Installation of Memory' with portraits and escape-routes of the Jewish school members premieres together with the audio-CD 'Wir werden uns viel zu erzählen haben, wenn wir uns einmal wieder sehen' (transl. 'We will have to tell each other a lot, if we see us again') on 7 December 2011 at the Gymnasium Stubenbastei.
Source: Original article with image on http://www.fashionoffice.org/culture/2011/education11-2011.htm.

more fashion.at/mobile>

News from
October 2011
September 2011
August 2011
July 2011
June 2011
May 2011
April 2011

subscribe
terms
imprint
(C) Sawetz, since 1996