Fashion design on the computer
In January 2012, the Australian publisher Ballistic releases the tenth title in the tutorial series 'd'artiste' about digital art. This time, four experts introduce into fashion design with the aid of computer graphic programs like Photoshop.
The new book 'd'artiste Fashion Design' is written in English and available worldwide. 'd'artiste' is not dedicated to selected software, but shows the work process of each artist step by step and introduces this way to recognized formats.
In 'd'artiste Fashion Design', the development of fashion designs by Alessia Zambonin, Lois van Baarle, Annie Stegg and Anne Pogoda is described in rich illustrated steps. The artists are using Photoshop, Illustrator and a range of others for color matching, like Corel Painter.
"Alessia Zambonin shows you how to create realistic cotton, satin, denim, tartan, chiffon, embroidery, leather, reptile skin, and knitwear fabrics in Photoshop. Annie Stegg and Anne Pogoda show off a collaborative workflow where they each start a fashion design and evolve the other artist's work, and Lois van Baarle shows you the techniques she has learned from a career in animation to give your fashion designs movement and interest." ballisticpublishing.com/books/dartiste/fashion_design/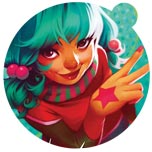 fig. original: Cover of the 192 pages book 'd'artiste Fashion Design - Digital Artists Master Class', publisher Daniel P. Wade, release in January 2012 on Ballistic Publishing.
Source: Original article with image on http://www.fashionoffice.org/culture/2011/fashiondesign12-2011.htm.

more fashion.at/mobile>

News from
November 2011
October 2011
September 2011
August 2011
July 2011
June 2011
May 2011
April 2011

subscribe
terms
imprint
(C) Sawetz, since 1996