Fashionoffice likes
...pieces which are inspired by nature, signature landscapes, and regional culture.
Such as the pyjama in navy with porcelain colored dots from the new FW2011/12 collection by Jockey. The team around Product Director Jens Noll was inspired by the 'American Way of Life' - the idea of freedom and independence, and sportive lifestyle in the landscapes of the North-East of US. The Jockey team has named the pieces after cities like Chicago, St. Louis, Detroit... and connected this way the 'American Way of Life' with jazz, soul and the tradition of motor engineering.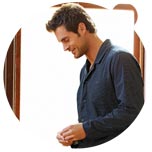 fig. original: Pyjama by Jockey, FW2011/12. Photo: (C) Jockey.
...or the iTree which carries audio technology for iPod, iPhone, W Lan stream unit or CD player by the Graz (Austria) based design duo KMKG Studio, founded 2007 by Martin Kern and Georg Kettele for projects in interdisciplinary architecture and design. Customers can choose the wood by going into the forest and pick a tree (cherry, poplar, spruce) from the 'Steirische Vulkanland'-region in the south of Austria.

fig. original (left): iTree by KMKG Studio; the architecture/design studio is part of the next international design fair 'Blickfang' (furniture, fashion, jewellery...) from 14 to 16 October 2011 in Vienna.
...and the cooked dessert in the style of an American donut seen in Kufstein in the Austrian Alps where the 1000 km long 'culinary route' guides through the country. The dishes (from very simple snacks to gourmet food) are made of regional products.
fig. original (right): Donut. Photo: Ferienland Kufstein, August 2011.



Source: Original article with images on http://www.fashionoffice.org/collections/2011/fashionofficelikes8-2011-III.htm.


more fashion.at/mobile>

News from
July 2011
June 2011
May 2011
April 2011

subscribe
terms
imprint

(C) Sawetz, since 1996