6 November 2011 - Short Message
#Fashion #film: British art and sculpture addicted #designer Georgia Hardinge's website

...introduces with gothic-rock pictures to the style of the designer.
Georgia Hardinge (born in London, studied at Parsons Paris, started in 2009) has received with her FW2011 catwalk presentation of the collection 'Spined' - prints inspired by medic x-ray images of human bones and sculpturous patterns that re-configure the female body, the Vauxhall Fashion Scout Merit Award during London Fashion Week in early 2011.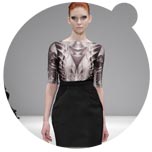 fig. original: Georgia Hardinge FW2011. Photo: (C) 2011 Christopher Dadey.
Georgia Hardinge combines in her fashion art and sculpture and believes that "the highest approach of art awareness is through fashion". The designer has already collaborated with Victoria's Secret, received a sponsorship from Swarovski and attention from Vogue.
Check out the fashion film intro on georgiahardinge.co.uk.
News from
October 2011
September 2011
August 2011
July 2011
June 2011
May 2011
April 2011

subscribe
terms
imprint
(C) Sawetz, since 1996