Japanese clothes, fabrics, art
In summer 2011, three exhibitions at the German museum for arts and crafts MKG-Hamburg introduce into the Japanese culture of making clothing, fabrics, art.
Until 14 August 2011, the exhibition 'Japanese Fashion Design' presents the Japanese culture to create fashion pieces out of experimental fabrics with references to Kenzo, Issey Miyake, Rei Kawakubo (Comme des Garcons), and Yohji Yamamoto.
Until 28 August 2011 the Japanese print art 'katagami' which is used for textile prints on clothing (kimonos), interior objects (curtains) or banners, is on show with around 40 examples for templates made of paper from mulberry from the late Edo- and Meji-time of the 18th and 19th century.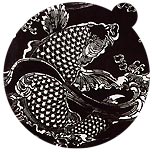 fig. original: Katagami - carps in waves, on paper stencil made of mulberry, 2nd half of the 19th century, Japan; Museum für Kunst und Gewerbe Hamburg. After the middle of the 19th century the print art katagami with motifs from nature became fashionable in Europe and influenced the aesthetics of arts and crafts.
Until 8 January 2012, the MKG-Hamburg invites to 'Die Kraft der Linie', which could be translated as 'The Power of the Line', which is about abstraction and individual representation and the influence of calligraphy on Western artists like Max Ernst, A.R. Penck, André Masson, and the ceramic decorations by Hamada Shoji or Pablo Picasso.


Source: Original article with image on http://www.fashionoffice.org/culture/2011/katagami7-2011.htm.


more fashion.at/mobile>
News from
June 2011
May 2011
April 2011

subscribe
terms
imprint
(C) Sawetz, since 1996