VENICE INSIGHT by publisher Karin Sawetz June 2011
Karin Sawetz is journalist, media researcher and fashion scientist (Mag. Dr. phil.).

Solidarity bag in Venice

On the press opening day of the Biennale in Venice on 1st June 2011, there was one bag that was spread massively in front of the country pavilions in the Giardini and the Arsenale. The red-white-red bag evoked for me personally 'home-emotions'; not only because these are the colors of the Austrian flag; the bag is of Austrian origin. Later on my way to my car - an extra-journey through the car-free city on the Canale Grande along the Venetian palazzi which promise multiple romantic adventures, I have seen it on many shoulders. Unfortunately I couldn't take a photo with my own camera.

Back in Vienna, I have received images directly from the Kunsthaus Bregenz which distributed 5.000 bags on the preview days. You can see the bag on this page above with the writing 'Free Ai Weiwei' and reference to 'Petition>>www.kunsthaus-bregenz.at'.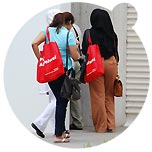 fig. original: The contemporary art museum 'KUB - Kunsthaus Bregenz' in Vorarlberg (Austria) has initiated an KUB-artbag solidarity event for the Chinese artist Ai Weiwei on the three opening days (1 - 3 June 2011) at the 54th Biennale di Venezia. Photos: (C) Christian Hinz.

The work of Chinese artist Ai Weiwei (he was arrested in Peking on 3rd April 2011 and nobody knows where he is now) is from 16 July to 16 October 2011 exhibited under the title 'Art / Architecture' at the Kunsthaus Bregenz.

"...the Kunsthaus Bregenz exhibition was not planned as a reaction to current events, it is nevertheless important, because the works and their spatial layout were selected and conceived by Ai Weiwei himself in close cooperation with the Kunsthaus." kunsthaus-bregenz.at.

Other reports about the 54th Biennale in Venice:
"From where have you got this bag?"
Tour through the 54th Biennale di Venezia by following the style of the individual bags of the country pavilions...
"Where is the 'Louis Vuitton'-pavilion?"
I took the seat beneath a woman and started talking about the pavilions...
"Is the Frog King on Twitter?"
...asks the visitor into the webcam of the installation 'Frogtopia - Hongkornucopia' by the Hong Kong (China) artist 'Frog King' during the 54th Biennale di Venezia...
Digital media artist in a plastic suit
...another part screened the documentation of the plastic suit performance '30 Days of Running in the Place' with the artist in his especially designed 'sweat-suit' sitting in front of a laptop...
Venice Insight by publisher Karin Sawetz: 'What Women Want(?)'
...is the title of an exhibition during the 54th Biennale di Venezia which I won't show but bespeak picture-less. I will explain my decision why I don't publish the images.

Source: Original article with images on http://www.fashionoffice.org/culture/2011/kunsthausbregenz6-2011.htm.


more fashion.at/mobile>

News from
May 2011
April 2011
March 2011
February 2011
January 2011

subscribe
terms
imprint

Sawetz (C) 2008/9/10