MAC Cosmetics
Winter 2011
Colors on healthy skin
By the turn of the year 2010 to 2011, US label MAC Cosmetics presents a collection together with accompanying skin care line which is following MAC's conviction that "even the most beautiful color collection can only impress on the most beautiful skin."
fig.: Special Reserve Highlight Powder in Rosé Ole (soft pink with gold shimmer) from the new color line 'Cham Pale', which is inspired by the golden color of Champagne.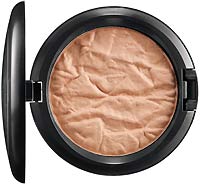 Fashionoffiice has received the information about the color collection Cham Pale and the moisturizing skin care line with lavender (calms redness) from the magazine's contact at MAC Cosmetics additionally with a personal favored product tip: the Fast Response Eye Cream is legendary and used by models against circles and puffiness around the eyes before a shooting.
Source: Original article with images on http://www.beautyme.com/cosmetics/2011/mac1-2011.htm.


more fashion.at/mobile>
News from
December 2010
November 2010
October 2010
September 2010
August 2010
July 2010
June 2010
May 2010
April 2010
March - April 2010
January - March 2010


subscribe
terms
imprint
Sawetz (C) 2008/9/10