CIBELES MADRID FASHION WEEK
Presentation of the fall/winter 2011/12 collections by more than 40 designers from 18 - 23 February 2011 in Feria de Madrid
Minimalistic and sculptural designs
From 18 to 23 February 2011, more than 40 Spanish designers present the new fall/winter 2011/12 collections during the 53rd edition of the Cibeles Madrid Fashion Week.
Keywords that describe the collections by the Spanish designers on the first view: elegant minimalistic, sculptural draperies, and volumes.
Fashionoffice collected some examples for minimalistic designs that surprise on some pieces with sculptural elements.
Video: Views on the catwalk of Jesús del Pozo FW2011/12, the opening show of the Cibeles Madrid Fashion Week on 18 February 2011.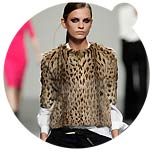 fig. original:
Woman in white shirt, androgyny dark trousers and a wild cat fur by Angel Schlesser, FW2011/12. In 1984, Angel Schlesser started his own label with a men's collection and some samples for women. His style can be described as minimalistic and especially the new collection shows androgyny elements.
Multi-colored cocktail dress with insertions of flounces by Victorio & Lucchino , FW 2011/12; presented on 19 February. The design duo founded the label in 1985. The two men are inspired by the traditional clothes of Andalucía (Southern Spain) and transfer their view on it into a contemporary style.
Antique brown evening dress by Kina Fernandez, FW2011/12; presented on 20 February 2011. The fabric of the dress has a dying that applies with a fake-transparency a sculptural deepness onto the piece.
Dark-brown knit top and draped woollen skirt by AA de Amaya Arzuaga, FW2011/12; presented on 19 February.
All images: (C) Cibeles Madrid Fashion Week, February 2011.

Source: Original article with images and video on http://www.confashion.com/fw2011/madridfashionweek2-2011.htm.


more fashion.at/mobile>
News from
February 2011
January 2011
December 2010
November 2010
October 2010
September 2010
August 2010
July 2010


subscribe
terms
imprint
Sawetz (C) 2008/9/10