Footballer Gerard Piqué for Mango
spring/summer 2011
fall/winter 2011/12

FC Barcelona defender in fashion
On 23 February 2011, Barcelona headquartered and with 1.700 own stores in over 102 countries represented fashion label Mango announced the collaboration with Spanish footballer Gerard Piqué, who is a person of interest - even for non-football addicts; finally after he began dating musician Shakira (new images on the video below).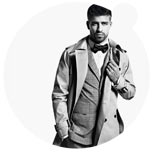 FC Barcelona defender Gerard Piqué (born 1987) is one of the most influential players of the Spanish team that won the FIFA World Cup 2010 in South Africa. You can see Piqué together with other footballers also in Shakira's 'Waka Waka'-World Cup 2010 video.
The collaboration between Gerard Piqué and Mango will run over the next two seasons spring/summer 2011 and fall/winter 2011/12.
Video: 'Shakira Confirms Relationship with Gerard Piqué : First Official pictures !', posted on 21 Feb 2011.

Source: Original article with image and video on http://www.fashionoffice.org/collections/2011/mango2-2011.htm.


more fashion.at/mobile>
News from
February 2011
January 2011
December 2010
November 2010
October 2010
September 2010
August 2010
July 2010


subscribe
terms
imprint
Sawetz (C) 2008/9/10