Marc Newson and Jaeger-LeCoultre
Atmos 566 clock from the collection 2011

Marc Newson's new design for an energy friendly watch
Australian designer Marc Newson has reinterpreted the Jaeger-LeCoultre watch 'Atmos' (premiered in 1928) as a time and space 'machine' that looks like a second skin made of bubble shaped Baccarat crystal which contains a perpetual mechanism that is driven by small changes in temperature.
The energy friendly mechanism was invented in 1928 by the engineer Jean-Léon Reutter who designed a clock movement that runs for several centuries without requiring any external intervention. Inside the capsule is a gaseous mixture that interacts with the atmospheric fluctuations and by breathing like a lung, it winds the barrel.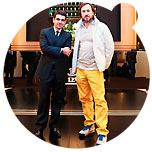 fig. original: Jérôme Lambert, CEO of Jaeger-LeCoultre, and designer Marc Newson at the Salon International de la Haute Horlogerie (SIHH) in Geneva (CH), where Marc Newson's Atmos clock 561 (created in 2008) and 566 (from the new Jaeger-LeCoultre collection 2011) were exhibited in January. It's the second time since 2008 that Marc Newson cooperates with Jaeger-LeCoultre.
fig. original: Atmos 566 clock designed by Marc Newson for Jaeger-LeCoultre, 2011 (limited edition). Photo: Claude Joray. The mechanism is illuminated by the light from outside. The hours and minutes display shows the sky of the Northern hemisphere with its cardinal points and zodiac signs.

Source: Original article with images on http://www.fashionoffice.org/collections/2011/marcnewson3-2011.htm
News from
March 2011
February 2011
January 2011
December 2010
November 2010
October 2010
September 2010
August 2010
July 2010


subscribe
terms
imprint
Sawetz (C) 2008/9/10