14 December 2011 - Short Message
#Fashion exhibition 'Alexander McQueen. Inspirations' from 23 December 2011 until 6 May 2012 at the MKG Hamburg
The MKG Hamburg (museum for arts and crafts) presents from 23 Dec 2011 until 6 May 2012 'Alexander McQueen. Inspirations' with special focus on three pieces from his final collection FW2010 such as an asymmetrical cocktail dress showing a painting from the late Middle Ages (around 1442, from the Altar of the City Patrons by Stefan Lochner, Cologne Cathedral) and golden feathers; possibly the last dress Alexander McQueen has designed.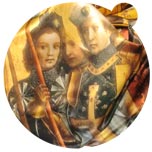 fig. original: Cocktail dress, printed silk satin and golden feathers of gooses, Fall/Winter collection 2010, Alexander McQueen (1969-2010), London. Photo: Maria Thrun.
Video: The dress appears in the video at minute 6:04. More about the private presentation held in March 2010 on fashion.telegraph.co.uk.
News from
November 2011
October 2011
September 2011
August 2011
July 2011
June 2011
May 2011
April 2011

subscribe
terms
imprint
(C) Sawetz, since 1996