Media information, February 2011
FOR IMMEDIATE RELEASE

The eyes of wide-spreading online journalists
Specialised journalists are preparing news for their audience before they become common sense. But are journalists also instances for 'intoxications' of the eco-system internet? Are they eco-activists? Fashionoffice searched in the statistical data to find out if it is possible for wide-spreading publishers to identify for example a 'Kill Switch' or partly shut-offs of internet functionalities.
Editorial media are standing in the front row when it comes to news – if it's fashion, beauty, art or computer games, mobile devices, cars, the news are landing in the mailboxes of wide spreading publications which are preparing the information for the visitors of the website. This is in short words the agenda of a journalist: to keep the eyes open and report in an appropriate style. With the new circumstances of online media and its daily delivered statistical (anonymous) traffic data for each file – a page, image, video, sound-file, etc. with additional keyword data, geography…, publishers can even monitor changes in user behaviour and interests. Despite these great new chances for journalists to prepare the information for the needs of users, the following traffic-example and the fundamental research on 'Memorized Data' deliver arguments why it is not possible for publishers to identify any 'intoxication' of the internet.
Massive variations in traffic are naturally
In summer 2010, Fashionoffice's traffic data from France diminished from maximal 25.500 daily inventory page views to average 267 from one day to the other (graphic below). In the last years, Fashionoffice has checked the systems several times – even with officials on occasion of similar cases. Fashionoffice's first assumption that the data are stored somewhere for faster delivery without leaving any tracks on Fashionoffice's log files couldn't be verified. The variations have to be explained from another view: as online is a self-regulating system that functions in a response-flow, the users' choice has the most impact: if the found information is not relevant, users will search for new sources. The traffic can change massively without any other cause than the loss or the gain of a wide audience in one country.

Memorized data and keywords influence the construction of reality
Additionally, Fashionoffice has figured out that 'Memorized Data' are influencing the construction of reality online. Fashionoffice's summary of the fundamental research (duration 2006-2010) on 'Memorized Data' with strong focus on keywords, their effects on finding information online, and how the request for content is tracked by reliable servers was published in the Annual Multimedia 2011 (Walhalla Fachverlag, Berlin).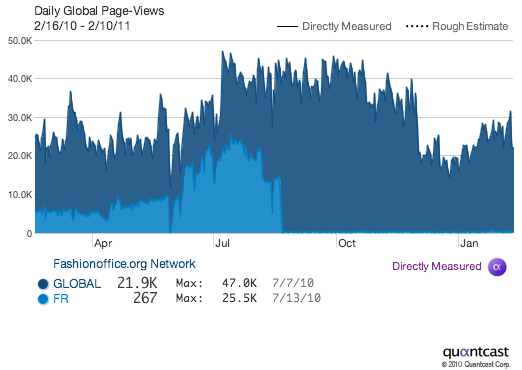 Source: Original article with graphic on http://www.fashionoffice.org/press/2011/mediainfo2-2011.htm.


more fashion.at/mobile>
News from
December 2010
November 2010
October 2010
September 2010
August 2010
July 2010
June 2010
May 2010
April 2010
March - April 2010
January - March 2010


subscribe
terms
imprint
Sawetz (C) 2008/9/10