MEN STYLE
spring/summer 2011
fashion by Jockey
beverage by Viva con Agua
bag by Kiehl's
beauty by Méthode Jeanne Piaubert, Lancaster
shoes by Vivobarefoot
Earth protection

Already in mid-March, earth month April is a theme.
On act.earthday.org people are posting their ideas for Earth Day 2011 like "eat more local food" or "using energy intelligently".
Fashionoffice's contribution to Earth Day: reduce consumption and select fashion that lasts longer than one season. And - keeping your skin healthy (sun protection, moisturizing) is not a contradiction to water saving strategies like shorter showers.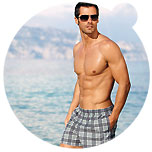 fig. original from above:
Checked surf shorts inspired by American retro-style by Jockey, SS2011. Jockey's creations are influenced by the style of Hollywood stars like Cary Grant, James Dean and George Clooney. Photo: (C) Jockey.
Viva con Agua glass bottles (0,33l) containing regional water (especially from Germany), 60% of the purchase are donated to sustainable drink water projects by Viva con Agua, which is a collaborative organsiation of the Welthungerhilfe; seen in March 2011.
Eco-friendly shopping bag designed by Grammy awarded hip-hop musician/producer (The Neptunes) and lead vocalist of N.E.R.D. Pharrell Williams on occasion of Earth Day 2011 (22 April) for the beauty label Kiehl's, comes out in a limited edition. The fabric of the bag itself is made from an eco-friendly material (Bionic Yarn - recycled plastic bottles mixed with other fibres) that was developed in the New York based company 'Returns Textiles' which is co-owned by Pharrell Williams.
Moisturizing anti-wrinkle 'Daycare' with ginger, bamboo and mountain plants from the 'MJP for Men' line by Méthode Jeanne Piaubert, seen in March 2011.
Multi-terrain barefoot cross-trainer 'Evo' (unisex) by Vivobarefoot, SS2011. The barefoot shoes by the eco-friendly label Vivobarefoot (sustainable materials, production, design) were developed together with podiatrists, biomechanics, and movement specialists to provide a natural running experience.
Moisturizing 'Sun Body Lotion SPF 30' supports the natural skin DNA repair process by Lancaster, premiered in March 2011.


Source: Original article with images on http://www.beautyme.com/skin/2011/menstyle3-2011.htm.


more fashion.at/mobile>
News from
March 2011
February 2011
January 2011
December 2010
November 2010
October 2010
September 2010
August 2010
July 2010


subscribe
terms
imprint
Sawetz (C) 2008/9/10