18 November 2011 - Short Message
#Electric #street-intervention seen at the United Nations Women's Guild in #Vienna

Since 1967, the United Nations Women's Guild (UNWG, headquartered in Vienna) supports children in need and mother/child projects. With the annual 'International Bazaar' the UNWG collects money for children charities worldwide. This year, Peugeot Austria is the main sponsor of the fundraising activities following the motto 'Support the environment. Support the future. Support the children.' and donates one 100% electri-city car 'Peugeot iOn' for the charity tombola on 3 December 2011 at the Austria Center Vienna. More about the bazaar on iaea.org/unwg/bazaar2011/bazaar2011.html.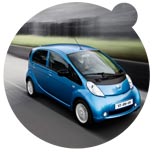 fig.: 100% electric vehicle Peugeot iOn
News from
October 2011
September 2011
August 2011
July 2011
June 2011
May 2011
April 2011

subscribe
terms
imprint
(C) Sawetz, since 1996