Red Carpet Style
spring/summer 2011
fall/winter 2011/12

fashion by Rena Lange
sunglasses by Giorgio Armani
beauty by Guerlain
jewellery by Oliver Heemeyer
fragrance by La Prairie
shoes by Q by Pasquale

Won't play football for the coach

Rena Lange presented the new women's wear fall/winter 2011/12 during Mercedes-Benz Fashion Week in Berlin. Design director Julian Neale transformed sportive-urban pieces with luxurious details into elegant couture.
Fashionoffice was inspired by Rena Lange's presentation and the music on the catwalk for a red carpet look with a rebellious 70s touch.
Video: Rena Lange FW2011/12 on the the catwalk at the Berlin Fashion Week, 20 January 2011. Courtesy of IMG Fashion / InDigital. Music: 'Coney Island Baby' (1975) by Lou Reed is about young people's wish to 'fit into' society when he sings "Wanted to play football for the coach".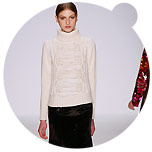 fig. original: Creamy-white turtle neck pullover with sculptural circumnavigator knots and look-through elements combined to a glossy black skirt by Rena Lange, FW2011/12. The collection was presented on 20 January 2011 during the Mercedes-Benz Fashion Week Berlin. Photo: (C) Dan & Corina Lecca.
Retro-sunshades GA 859/S inspired by pilots and natural scientists by Giorgio Armani, SS2011.
Moisturizing 'Terracotta' bronzing powder by Guerlain, launched in March 2011.
Ring with brown moonstone, mother of pearl, brown and white diamonds by the Viennese jeweller Oliver Heemeyer, seen in March 2011.
Eau de toilette 'Sheer' is a light and elegant composition developed from the 'Life Threads'-line by La Prairie, premieres in April 2011 (limited edition).
Sandal with Murano glass decoration on the high heel by Los Angeles based red carpet shoemaker Q by Pasquale, from the Fall 2011 collection.
Video: Impressions from the 'Glass Shoe Champagne Reception Red Carpet' at Q by Pasquale on 29 January 2010 in Los Angeles.

Source: Original article with images and videos on http://www.confashion.com/fw2011/redcarpet3-2011.htm.


more fashion.at/mobile>
News from
March 2011
February 2011
January 2011
December 2010
November 2010
October 2010
September 2010
August 2010
July 2010


subscribe
terms
imprint
Sawetz (C) 2008/9/10