RESTLESS (2011)
directed by Gus Van Sant
cast: Henry Hopper (Enoch), Mia Wasikowska (Annabel), Ryō Kase (ghost 'Hiroshi'), Schuyler Fisk (Elizabeth - mother of Annabel),...
costume design by Danny Glicker (Oscar nomination, several awards)
Costumes that reflect the shortness of life
Gus Van Sant, who studied at the Rhode Island School of Design before he made Hollywood-movies like 'My Own Private Idaho' or 'Good Will Hunting', has teamed up with 'Hollywood'-natives for the love-story 'Restless', which was presented in mid-May at the Cannes Film Festival. The movie credits show in the main roles Henry Hopper (son of Dennis Hopper) and Schuyler Fisk (daughter of Sissy Spacek), who plays the mother of Annabel.
Schuyler Fisk reports from the close collaboration with costume designer Danny Glicker and contributes an anecdote from the set: for the costumes of Annabel and Elizabeth, Fisk was inspired by her mother Sissy Spacek. "My mom had a really good idea," Fisk reveals, "that, after Annabel passes and Elizabeth is going to the memorial service, she could have something of Annabel's to wear."

"Elizabeth wears Annabel's vintage Victorian magnifying glass pendant on a freshwater pearl necklace," Glicker explains. "I thought it would be a perfect piece for Elizabeth to wear because it is something that Annabel wears frequently, and it directly connects to Annabel's passion for nature and her willingness to view life in detail, fearlessly, with passion and up close."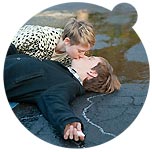 fig. original: Mia Wasikowska (Annabel) and Henry Hopper (Enoch) in 'Restless' by Sony Pictures. Photo: (C) 2011 Sony Pictures Releasing GmbH. Danny Glicker dressed the two main roles into vintage, lived-in looks. The concept of Enoch's outifts is to look like 'falling apart' - such as his world; and Annabel's style is a combination of 1920s, 30s with pieces from the 1960s - her character in the movie brings a breeze of freshness into the mainly autumnal colors - and into the life of Enoch.

In May 2011, Danny Glicker's credits give preview to his next movie, director Walter Salles' adaptation of Jack Kerouac's 'On the Road'.

Video (trailer courtesy Columbia Pictures): 'Restless' (2011) is a love-story about a man, who has lost his parents at a car crash, and a young woman, a cancer patient; both are addicted to mortality and funerals. Find the release info for several countries on imdb.com/title/tt1498569.

Source: Original article with image and video on http://www.fashionoffice.org/culture/2011/restless5-2011.htm.


more fashion.at/mobile>

News from
May 2011
April 2011
March 2011
February 2011
January 2011

subscribe
terms
imprint

Sawetz (C) 2008/9/10