Thinking other worlds, other realities
The 'Steirischer Herbst' (23 September - 16 October 2011, Graz, Austria) has chosen the dance performance 'Cesena' by the Belgian choreographer Anne Teresa De Keersmaeker (Rosas) and musician Björn Schmelzer (Graindelavoix) as the opening event of this year's festival which centers around the leitmotif 'Second Worlds', real and unreal parallel worlds in culture, politics or human psyche, believe systems and the search for the 'ghosts' in our society - the ones who are falling through our perception.
Unreal, spiritual worlds are as much real as much people believe in them, while political, social parallel worlds are subjective reflections of what is real, they are constructed realities and mostly mediated (TV, internet...) truth:
"The other world has very specific manifestations, in quite a different way, in African cultures, for example: fancy cars and plenty of bling-bling – it is no coincidence that in poverty the Second World looks exactly the way they imagine distant Europe," publishes the Steirischer Herbst about the leitmotif of the Croatian curator collective 'What, How & for Whom / WHW' and continues, that thinking parallel worlds or speculative realities is an efficient instrument of philosophers: "...it is not so much a matter of fixing facts as of considering the possibility that it could also always be very different." steirischerherbst.at.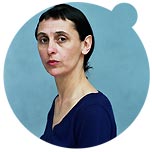 fig. original: Anne Teresa De Keersmaeker. Photo: Herman Sorgeloos.
In 'Cesena', the dancers of the company Rosas will perform and sing to 14th century, late Gothic inspired music in the tradition of 'Ars Subtilior' by the vocal ensemble Graindelavoix (the members will dance too) in the set and lighting of Ann Veronica Janssens, who has created "a sculpture of passing time" - a metaphor for that not everything what is around us is visible; some facts only become obvious when time passed.
"And gradually, as the rising sun brings more light, you begin to see more. You see faces, bodies. You notice the differences. ... You see their nice clothes, blue and black..." reports Utopia Parkway on 17 July 2011 from the premiere of 'Cesena' in Avignon.
The video shows the counterpart of 'Cesena' (premiered on 16 July 2011 in Avignon), 'En Atendant' (premiered in 2010) by Anne Teresa De Keersmaeker and Björn Schmelzer.
Music ethnologist Björn Schmelzer re-awakes in his compositions 14th century 'Ars Subtilior', which was developed in a time when society was challenged by new social, political and religious circumstances. "Nowadays this upheaval seems more relevant than ever. In the light of today's increasingly confusing events and the complexity of the choices we face, the question of our mortality and physicality is becoming ever more crucial." comment the 'En Atendant' film makers Olivia Rochette and Gerard-Jan Claes on YouTube.

'Cesena' is on tour: 26 Aug 2011 in Utrecht (The Netherlands), 23 + 24 Sept 2011 in Graz (Austria), 22 + 23 Oct 2011 Bern (Switzerland)... rosas.be.


Source: Original article with image and video on http://www.fashionoffice.org/culture/2011/steirischerherbst7-2011.htm.


more fashion.at/mobile>
News from
July 2011
June 2011
May 2011
April 2011

subscribe
terms
imprint
(C) Sawetz, since 1996