Women Style
spring/summer 2011
fashion by p2
bag by Normincies
watch by Thomas Sabo
laptop by Sony Vaio
fragrance by ck one
shoes by United Nude

Stripes in candy and rainbow colors
Spring burst out in fruity, sweet colors on sportive-urban pieces.
Fashionoffice collected from the spring/summer 2011 collections some pieces with stripes and a laptop in a reflective color that provides additional light at night.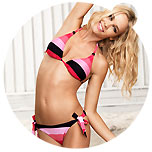 fig. original:
Bikini 'Candy Stripes' from the SS2011 'Summer-splashes'-collection by the Austrian label p2. Photo: Mario Schmolka, (C) p2.
White laptop bag made of Alcantara (feels like suede) and protective aluminium frame by the Finnish brand Normincies, presented in March 2011. Photo: (C) www.studiomama.fi.
Watch in black stainless steel with orange high-tech polycarbonate inlays and rotating Eiffel tower on the small-second display by German headquartered jewellery label Thomas Sabo, SS2011.
Neon-green laptop Vaio CA by Sony, SS2011. Sony presents the Vaio CA-series in five reflective colors. The quasi light-interactive surface is available in pink, orange, white, black, and like on this page in neon-green. Additional light comes from the reflective skin of the keyboard; this feature is especially designed for night-active users and can be customized individually.
Eau de toilette 'ck one summer 2011', limited edition, in shops since March. The designers of the aromatic-lemon scent and the colorful packaging (carries the free music download link to 5 songs) were inspired by a summer party on the beach.
Rainbow colored ankle boots 'Fold Hi' by United Nude, SS2011. Photo: (C) Salamander.



Source: Original article with images on http://www.fashionoffice.org/collections/2011/stripes3-2011.htm.


more fashion.at/mobile>
News from
March 2011
February 2011
January 2011
December 2010
November 2010
October 2010
September 2010
August 2010
July 2010


subscribe
terms
imprint
Sawetz (C) 2008/9/10