VENICE INSIGHT by publisher Karin Sawetz June 2011
Karin Sawetz is journalist, media researcher and fashion scientist (Mag. Dr. phil.).
'What Women Want(?)'

...is the title of Flavio Lucchini's exhibition at the Arsenale Space during the 54th Biennale di Venezia where I have visited the press opening day on 1st June. I have seen more than one exhibition which I won't present on Fashionoffice - because of formal reasons like in the case of the Austrian Pavilion (to publish works of the artist requires an extra contract with the organisation which holds the copyrights for his art) or the content of the artworks itself. But 'What Women Want(?)' is the only one I won't show but bespeak picture-less on Fashionoffice; although I have a lot of photos in very good quality from the exhibition.
I will explain my decision why I don't publish the images of women dressed in burqas on magazine covers in the style of Vogue or Time and in campaign-like arrangements with logos that name labels like Louis Vuitton and Prada.
My motivation to write this picture-less article is that for me personally 'What Women Want(?)' is an emotionalising play with some feministic keywords like 'objectification' and nice fashion layouts that catch the attraction especially of fashion addicts, whose involvement is reinforced when they hear that Lucchini is the former art director of L'Uomo Vogue and was once an important person in the world of international fashion magazines. This fact attributes authenticity to the words and the things he says and makes. But to consume a nice layout does not mean to consider its critical content automatically in the same scale.

His images do not reflect reality or give any insights into the real life situations of women without identity. Flavio Lucchini's work is a personal view on an un-researched field; probably therefore the best and most credible of the exhibition is its title: 'What Women Want(?)'. Anyway; Flavio Lucchini has set an impulse to consider life-circumstances of women which are not in the public view - not only the ones under burqas, but all women who are under the radar of our society.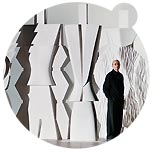 fig. original: Portrait of Flavio Lucchini in front of his 'White Totem: the overstated dresses'-sculptures. Photo by Oliviero Toscani. Flavio Lucchini publishes on his website about the works which are exhibited under the title 'What Women Want(?)' in Venice: "Today these veiled women, much more objectified than those dressed up as dolls by fashion designers, represent the most controversial image of femininity..." flaviolucchiniart.com/index.php?pag=singola&tpl=conmenu&idp=3&idn=184.
Other reports about the 54th Biennale in Venice:
"From where have you got this bag?"
Tour through the 54th Biennale di Venezia by following the style of the individual bags of the country pavilions...
"Where is the 'Louis Vuitton'-pavilion?"
I took the seat beneath a woman and started talking about the pavilions...
"Is the Frog King on Twitter?"
...asks the visitor into the webcam of the installation 'Frogtopia - Hongkornucopia' by the Hong Kong (China) artist 'Frog King' during the 54th Biennale di Venezia...
Digital media artist in a plastic suit
...another part screened the documentation of the plastic suit performance '30 Days of Running in the Place' with the artist in his especially designed 'sweat-suit' sitting in front of a laptop...
Solidarity bag in Venice; Insight by publisher Karin Sawetz
Unfortunately I couldn't take a photo from the red-white-red bag with my own camera. Back in Vienna, I have received images from the Kunsthaus Bregenz (Austria) which distributed 5.000 'Ai Weiwei'-solidarity bags at the 54th Biennale di Venezia...


Source: Original article with image on http://www.fashionoffice.org/culture/2011/venice6-2011.htm.


more fashion.at/mobile>
News from
May 2011
April 2011
March 2011
February 2011
January 2011

subscribe
terms
imprint
(C) since 1996 Sawetz