Fashion fans as models
In August 2012, the model contest for the new Alpha Industries Europe fall/winter 2013/14 catalogue will start on facebook.com/AlphaIndustriesEurope.
The concept of Alpha Industries' model-contest is to show the fashion pieces in an authentic way by inviting the label's fans to become Alpha Industries presenters.
The contest is divided into a jury-selection of the favorites at a live-casting followed up by an online voting where users decide who will appear in the next FW2013/14 catalogue.
The five winners will be announced at the end of November 2012.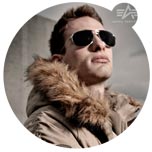 fig. original: 'Explorer' jacket worn by one of the winners of the first ever Alpha Industries Europe Facebook model-contest, catalogue FW2012/13. Photo: (C) Alpha Industries.
Source: Original article with image on http://www.fashionoffice.org/collections/2012/alphaindustries7-2012.htm.

more fashion.at/mobile>

News from
June 2012
May 2012
April 2012
March 2012
February 2012
January 2012

subscribe
terms
imprint
(C) Sawetz, since 1996