Fashionoffice fashion tip:
Shorts for him and her
...seen in early July 2012 at Bruno Banani's new underwear collection. The 3D psychedelic printed shorts are combined with basics like an uni-colored or classical grey/black pinstripe shirt.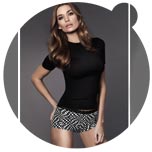 fig. original: Women's and men's underwear with streetwear touch and psychedelic 3D-prints. left: Urban woman's shirt in black with panty (and pushup) 'Psycho' in psychedelic print (comes into stores in September 2012). right: Men's 'Neon Beetle' hip short in black/pink print (available since June 2012) and black/grey pinstriped shirt. Bruno Banani, FW2012/13.
Source: Original article with images on http://www.fashionoffice.org/collections/2012/brunobanani7-2012.htm.

more fashion.at/mobile>

News from
June 2012
May 2012
April 2012
March 2012
February 2012
January 2012

subscribe
terms
imprint
(C) Sawetz, since 1996