Environmental friendly bikini promotion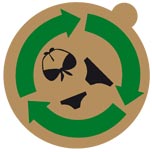 fig. original: The Italian label Calzedonia (underwear, stockings, swimwear, etc. for women, men, kids; founded 1986 in Verona, available worldwide) presents the new bikini styles SS2012 together with an environmental friendly promotion which runs from 1 April to 30 June 2012. Customers are invited to bring old swimwear (from any brand) and receive 'breaking price'-reductions from 5.- Euro from one old piece for one new woman's swim piece, 3.- Euro for men's swimwear (one old reduces the price of one new; not cumulative!), and 2.- Euro reduction for new kids swimwear in exchange to old kids swimwear. Conditions of the Calzedonia 'A Cleaner Sea' campaign on calzedonia.it/my/?p=425.
The promotion runs in all Calzedonia stores. The swimwear breaking will be done by the recycler 'I:CollectAG'.


The video gives an impression of the catwalk presentation of the spring/summer 2012 fashion by Calzedonia on a stage with space-nature 3D screen art works.
Source: Original article with images and video on http://www.fashionoffice.org/collections/2012/calzedonia3-2012.htm.

more fashion.at/mobile>

News from
February 2012
January 2012
December 2011
November 2011
October 2011
September 2011
August 2011

subscribe
terms
imprint
(C) Sawetz, since 1996