Clown in boxing ring

On 1 December 2012, Norwegian clown Katja Brita Lindeberg's sports boxing performance 'Clinch' will premiere in Austria during the International Women's Clown Festival 2012 (30 November - 8 December) in Vienna where women from Brazil, US, Spain, United Kingdom, France, Zimbabwe, Austria... present their latest works on stage at the Kosmos Theater.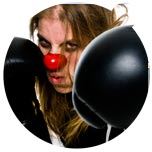 fig. original: Actress and clown Katja Brita Lindeberg in her performance 'Clinch'. The clown performance is about living in society with its preformatted roles and desires. Photo: synlig.no.
"Women laugh on a sophisticated level," introduces Ulrike Lunacek, Spokesperson of the European Green Party, into the festival program, and Barbara Prammer, President of the Austrian National Council, refers the relevance of clown comedians, especially women in the clown role which is a men's domain. "You don't have the role models who have already proven that it is," such as Swiss comedian Gardi Hutter once said about the challenge for a woman to perform as clown.
Additionally, the festival invites to lectures with discussion (3 December) about clown performances as art and the effects of the women's work on the art scene, a two day workshop (1 + 2 Dec) and the closing party with DJ line.
Video: Trailer for the clown performance 'Clinch' by Katja Brita Lindeberg with live music composed by guitarist Magnus Børmark.
Source: Original article with image and video on http://www.fashionoffice.org/culture/2012/clownin11-2012.htm.

more fashion.at/mobile>

News from
November 2012
October 2012
September 2012
August 2012
July 2012
June 2012
May 2012
April 2012
March 2012
February 2012
January 2012

subscribe
terms
imprint
(C) Sawetz, since 1996