Kids-friendly styling
In June 2012, Geox presented the fashion and shoes lookbook Fall/Winter 2012/13 for girls and boys under the motto 'Respira' which means 'Breathes' and references the use of breathing technologies in the soles of the Italian label's footwear and in membrane-bands in the apparel pieces.
"Each Geox product is the result of the patented researches which are carried out in our Italian laboratories and in collaboration with major European universities," introduces Geox Chairman Mario Moretti Polegato at the beginning of the orange-neon colored catalogue into the elegant collection.
The lookbook itself consists of product images like the two boots on this page and pictures that show a kids-friendly without looking childish styling.
fig. original: Ankle boots with breathable, waterproof soles. The boot with printed leather is for girls, the boot with suede is for boys.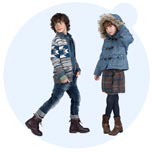 fig. original from left:
Geox combines for boys for example a comfortable wool sweater in mountaineer style with snow crystal pattern to denim trousers in modern cut, blue cotton shirt and green long sleeves t-shirt.


For girls, the light-blue herringbone down jacket made from a technical fabric and patented transpiration system (membrane-bands along the shoulders build air-holes for breathing) is one of the highlights of the collection. For the lookbook presentation, the jacket with classical appeal is combined to a checked skirt and ankle boots.


Boots, jacquard fabric dress, stretch jersey long sleeves t-shirt, wool hat.


Sneaker, stretch gabardine trousers and jacket, cotton shirt, cotton cardigan.
Source: Original article with images on http://www.fashionoffice.org/collections/2012/geox6-2012.htm.

more fashion.at/mobile>

News from
June 2012
May 2012
April 2012
March 2012
February 2012
January 2012

subscribe
terms
imprint
(C) Sawetz, since 1996