Austria Insight on 8 November 2012 by Karin Sawetz.
'Fit for Ski'
...is the motto of the European health and fitness clubs 'Holmes Place' in early November 2012 in Austria where the snow sport season has just begun.
Caused by Austria's geography (a large part of the country belongs to the Central European Alps) and the Middle European climate, snow sports like ski or snowboard are traditional leisure activities of the region in winter.
I can remember that during school time at Gymnasium - sounds like a sport school but 'Gymnasium' is the Austrian name for a higher Middle School where pupils get fit for academic education on universities, my class was trained for ski sport activities. The teachers called it 'Zirkeltraining' (circuit-training) and nobody liked it; long time I thought the training is a sadistic idea of the teachers. We had to wear for example vests filled with lead and jump on benches. Even if the circuit-training at school was intense, the body was prepared and fit for the class ski course; this special sport course is tradition at schools in Austria.
For grown-ups and the younger ones who have not such good sport teachers or programs at their schools, the three weeks 'Fit for Ski' program with personal trainer at the four Holmes Place clubs in Vienna seems to be a good tip. It is announced that the course is available for different fitness levels. 'Fit for Ski' focuses on the prevention of accidents and injuries by conditioning the body and strengthening the muscles for "...more fun and security on slopes" such as Katharina Händler, Fitness Expert of Holmes Place Health Clubs, says.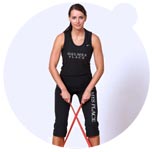 fig. original: The 'Fit for Ski' program is equipped with terra band, medicine ball, stepper, etc:
10 minutes warm up of all body parts from the shoulders to the ankles
6 minutes three functional stretching exercises
29 minutes circuit training which consists of ten exercises
8 minutes cardio finish (four exercises during eight minutes)
7 minutes cool down with assisted stretching
Photo: (C) Holmes Place.
Source: Original article with image on http://www.beautyme.com/skin/2012/holmesplace11-2012.htm.

more fashion.at/mobile>

News from
October 2012
September 2012
August 2012
July 2012
June 2012
May 2012
April 2012
March 2012
February 2012
January 2012

subscribe
terms
imprint
(C) Sawetz, since 1996