Designing the surface of a motorbike

...in this case the protective frame with shield for the front legs, the floorboard and the motor trim of the scooter 'Honda Vision 50'. Honda invites users via Facebook to the design competition 'style it your way' which runs from 8 October until 17 December 2012.
Unfortunately only Austrian users can submit their designs. Nevertheless, it's a nice idea to customize the own bike!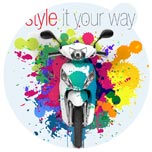 fig. original: Details about the competition and voting (the design with the most votes will win) can be viewed on the Honda Austria Facebook page facebook.com/#!/HONDA.AUSTRIA.NEWS.
Source: Original article with image on http://www.fashionoffice.org/motor/2012/honda10-2012.htm.

more fashion.at/mobile>

News from
September 2012
August 2012
July 2012
June 2012
May 2012
April 2012
March 2012
February 2012
January 2012

subscribe
terms
imprint
(C) Sawetz, since 1996