New traveling hotspot for shopping: Kazakhstan
In October 2012, Louis Vuitton, Saks Fifth Avenue, Fendi, Burberry, Stella McCartney, Gucci, Ralph Lauren, Dolce & Gabbana and Loro Piana opened their first stores ever in Kazakhstan and turned the country immediately into a new traveling hotspot for shopping addicts.
The brands reside in the elegant 52.000m2 Esentai Mall in Almaty, which is the largest and former (until 1998) capital city of Kazakhstan. Kazakhstan belongs to the largest countries (measured by square kilometres) worldwide and its fast growing economy has awakened the interest of luxury labels.
For Saks Fifth Avenue, it's the first ever department store in Asia and covers over 9,000m2 across three floors of the Esentai Mall.
Capital Partners' Burak Oymen says about the Esentai Mall in Almaty: "The completion of this project is a major milestone for Almaty and indeed for Kazakhstan. It brings a new dimension to the city, which is fast emerging as a regional centre for finance, leisure and business. The arrival of some of the world's leading luxury retailers on such a scale, and with this level of commitment, underscores the position Almaty has created for itself in the centre of Asia".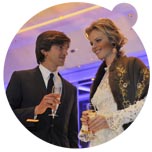 fig. original: Co-founder and Chief Executive Officer of Capital Partners Burak Oymen and supermodel Eva Herzigova seen during the fashion show (image) at the launch of Capital Partners' luxury Esentai Mall, where global fashion brands look to Central Asia for new customers in Almaty, Kazakhstan. The pictures were taken on Friday 19 October 2012, one day before the official opening on 20 October. Photos: Vladimir Tretyakov/Getty Images for Esentai Mall. (C) 2012 Getty Images.
Video from the event with national and international guests such as Eva Herzigova on occasion of the launch of Capital Partners' luxury Esentai Mall on 19 October 2012 in Almaty, Kazakhstan.
Source: Original article with images and video on http://www.confashion.com/fw2012/kazakhstan10-2012.htm.

more fashion.at/mobile>

News from
October 2012
September 2012
August 2012
July 2012
June 2012
May 2012
April 2012
March 2012
February 2012
January 2012

subscribe
terms
imprint
(C) Sawetz, since 1996