Fashion that awakens ideas of nature, re-birth and flying
...seen at the Spring/Summer 2013 presentation by Lie Sang Bong on 3 November 2012 at Jakarta Fashion Week, Indonesia.
The award-winning South Korean in Paris based designer Lie Sang Bong presented day and evening wear around the theme 'butterfly'. For Lie Sang Bong, the butterfly is the symbol of transformation. In the new collection, the designer transforms retro elements from the 1960s into modern shapes and volumes. The label states on its YouTube channel: "The inspiration came from a sense of nostalgia for 60's fashion and the designer's childhood memories."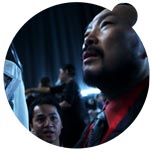 fig. original: Lie Sang Bong backstage at Jakarta Fashion Week on 3 November 2012. He was one of the opening designers of the Jakarta Fashion Week where over 180 labels show their collections from 3 to 9 November 2012. The JFW is held this season for the 5th time and is organized by Femina Group which is one of Indonesia's leading media companies.
Lie Sang Bong counts to Asia's most important designers, received 'The Best Designer of the Year in 2009' award in Seoul and shows regularly at Paris Fashion Week (since 2002). The latest Lie Sang Bong collection SS2013 premiered in Europe during Paris Fashion Week on 3 October and is bespoken on media like Nowfashion or Fashionising.
Find out more about Lie Sang Bong's fashion work:
SS2012 - Architecture, time and space
FW2011/12 - Landscape from a punky-elegant sight
SS2010 - Time and gravity
fig. original: Lie Sang Bong Spring/Summer 2013 on the catwalk during Jakarta Fashion Week 2013 at Plaza Senayan on 3 November 2012 in Jakarta. Photos by Irvan Arryawan / Feminagroup.
Left: Comfortable evening wear consisting of semi-transparent white blouse and wide black skirt, both with butterfly all-over print.
Right: Black ball gown for mysterious Queens of the Night with colorful printed and additionally 'installed' butterflies which surround the wearer's shoulders. The model wears a black butterfly-facemask.
Left, below: White daywear coat with bright colored, big butterfly.
Right, below: White evening dress with red pattern which looks like an abstraction of a houndstooth check with butterfly-print. The model's face is covered by a red butterfly-mask.
Source: Original article with images on http://www.confashion.com/ss2013/liesangbong11-2012.htm.

more fashion.at/mobile>

News from
October 2012
September 2012
August 2012
July 2012
June 2012
May 2012
April 2012
March 2012
February 2012
January 2012

subscribe
terms
imprint
(C) Sawetz, since 1996