Mysterious secondary actress in an 'action' fashion film as train traveller
On 24 October 2012, Mango presented the upcoming collection 'Gala Gonzalez for Mango Touch' (release on 8 November) with a fashion film that was shot in September in an old train station. The fashion film is composed of 30ies styled pictures. The plot could be described as 'mystery-action'.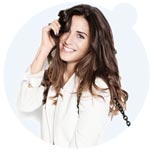 The cast consists of blogger Gala Gonzalez (photo original) in the main role, two men (models Joan Pedrola and Pablo Otero) and then there is a fourth person who looks like... Amazing!
The FW2012/13 capsule collection of accessories (bags, shoes - such as ankle boots, jewellery) is designed by Gala Gonzalez and will arrive in the Mango online store on the address mango.com/galagonzalez on 8 November and in stores in Russia and EU.
Video: Fashion film 'Gala Gonzalez for MANGO Touch'.
Source: Original article with images and video on http://www.confashion.com/fw2012/mango10-2012.htm.

more fashion.at/mobile>

News from
October 2012
September 2012
August 2012
July 2012
June 2012
May 2012
April 2012
March 2012
February 2012
January 2012

subscribe
terms
imprint
(C) Sawetz, since 1996