9 August 2012 - Short Message
#MusicDownload 'Hurricane' by MS MR, today worldwide live-session on KEXP Radio
Today, the Brooklyn based duo MS MR will play the single 'Hurricane' and some yet unreleased new tracks live on KEXP Radio (New York). The session of the 4-piece live band can be listened worldwide on KEXP.org (starts at 12pm EST / 9am PST).
Recently, the first ever video which shows the band was published on Yours Truly; the video was made during the live performance of their debut single 'Hurricane' at the Electric Lady Studios in New York.
MS MR are on tour in US (August in Washington, New York, Philadelphia...) and EU (September in London, Paris, Amsterdam, Berlin...). Details on facebook.com/msmrsounds/.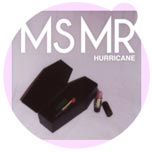 fig.: Cover art for 'Hurricane' by MS MR
Music: Stream and download 'Hurricane' by MS MR
News from
July 2012
June 2012
May 2012
April 2012
March 2012
February 2012
January 2012

subscribe
terms
imprint
(C) Sawetz, since 1996