Heart with wings by French street artist on caps

...seen in July 2012 on the collaborative artist series by New Era with illustrations by French urban artist Steve Pitocco who brands his works with the signature flying heart with wings like on view on the cap (photo right). Pitocco's heart (in French 'coeur') with wings has an own name: 'Le Koeurélé'.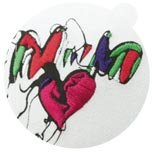 fig. original: 'Le Koeurélé' New Era x Steve Pitocco cap
"Nul besoin d'utiliser des termes bien définis pour une oeuvre infinie, il ne faut pas expliquer une création il faut la ressentir,..." is the advice to experience the work by Steve Pitocco.
.
The text means as much as: "There is no need to use well defined words for a work which has no borders, do not explain a creation, it must be felt,...". One of Steve Pitocco's principles is "Interprétez vous-même sans manipulation" (Interpret yourself without manipulation).
The 'Steve Pitocco'-collection is New Era's third artist collaboration in Europe and follows the motto 'Fly Your Own Flag' in the meaning of finding ways to express the own personality with the means of design. The limited edition was launched on 18 June 2012. Before, the US label released in Europe editions of caps with artworks by the British illustrator Jon Burgerman and the Belgian graffiti artist Bue the Warrior.
Find the other models of the five pieces art-caps 'New Era x Steve Pitocco' collection on neweracap.co.uk.

Video: Smooth Zoo for 'Les 3 Murs' (an urban art community project in Paris' 10th district) on Rue Sainte Marthe by Steve Pitocco; video directed by Franck Obadia, posted by Captain Prod. Steve Pitocco is part of the Paris-based 'Captain Prod' artistic production team (music, art, design, multimedia...) and has applied his urban culture-graffiti-street art style already on products and projects by brands like Lacoste, Adidas, G-Shock, Swarovski, etc.
Source: Original article with image and video on http://www.fashionoffice.org/culture/2012/newera7-2012.htm.

more fashion.at/mobile>

News from
June 2012
May 2012
April 2012
March 2012
February 2012
January 2012

subscribe
terms
imprint
(C) Sawetz, since 1996