Street wear inspirations and graphical prints seen at New York Fashion Week
The following pieces are from the new Spring/Summer 2013 collections which were presented on 7 and 8 September 2012 during New York Fashion Week.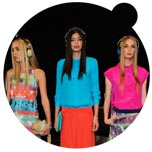 fig. original from left, row above:
New York based label W118 By Walter Baker presented on Friday the 7th September the new spring/summer 2013 collection at the 'Box' during New York Fashion Week. The models wore headphones to their color-blocking combinations and items made of watercolor-flower printed fabrics and rocked to the music such as standing in the subway or waiting for the green light to cross the street. Watch the presentation on youtu.be/6XBG0-X5Y7M. Photo by Mike Coppola/Getty Images for Mercedes-Benz.
On the same day, eight women's wear collections by the textile and fashion students of the Academy of Art University San Francisco were on show at the Theatre. The long dress on the photo below is made of floating material with mainly black and white photo print. The pattern looks like a screen shot of a woman's face taken from a color TV with malfunction. Find the catwalk video on youtu.be/jyX0m1oxzi4. Photo by Randy Brooke/Getty Images for Mercedes-Benz.
fig. from left, row below:
New York based designer Mara Hoffman's nature and tribal culture inspired prints with names like 'Aloha' or 'Medicine Wheel' are bespoken on scallywagandvagabond.com and Fashionista writes: "...her clothes are never overtly sexy, but always flirty...". More about the designer who studied at Parsons School of Design in New York City and at Central Saint Martins College of Arts and Design in London and began her career with the TV-series 'Sex and the City' on mbfashionweek.com. The photo was taken on 8 September 2012 by Frazer Harrison/Getty Images for Mercedes-Benz. Highlights from the runway are published on youtu.be/6Y1Y4CHTADk.
Dress with graphical creme-strawberry print by US label Czar By Cesar Galindo from the spring 2013 collection, presented during Mercedes-Benz Fashion Week on 7 September 2012. Photo by Mike Coppola/Getty Images for Mercedes-Benz. Catwalk show on youtu.be/Z14enMbka28.
All photos: (C) 2012 Getty Images.
Source: Original article with images and video on http://www.confashion.com/ss2013/nyfashionweek9-2012.htm.

more fashion.at/mobile>

News from
August 2012
July 2012
June 2012
May 2012
April 2012
March 2012
February 2012
January 2012

subscribe
terms
imprint
(C) Sawetz, since 1996