Formula 1 and rally champions, hurdle runners, design and art
On 24 April 2012, California headquartered sports fashion label Oakley presented Formula 1 driver and two times world champion Fernando Alonso (Spain) and eight times (in a row) rally champion Sébastien Loeb (France) as new faces of the 'Beyond Reason' campaign. 'Beyond Reason' stands for pushing the limits, refusing boundaries, and combine art and design when it comes to incorporate new technological innovations into sporting goods.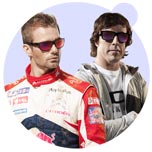 fig. original: French rally champion Sébastien Loeb (left) wears the sunglasses 'Sébastien Loeb Signature Jupiter Squared', designed by the driver in collaboration with Oakley; comes into stores on 1st June 2012. 'Jupiter Squared' presented by the 'Beyond Reason' athlete Spanish Formula 1 champion Fernando Alonso.
Video: The double amputee runner Oscar Pistorius (aka 'Blade Runner', GQ's Best Dressed Man 2011), is one of the faces of the ' Beyond Reason' campaign by Oakley, launched in April 2012.
Additionally, Oakley extends the campaign 'Beyond Reason' to art collaborations between athletes and artists such as Bryan Clay and painter Natalie Frank for a portrait of the decathlete and hurdle runner Lolo Jones and Sarah Olson who work together for the project 'Run Lolo Run'; such as finance.yahoo.com reports.
Source: Original article with images and video on http://www.fashionoffice.org/collections/2012/oakley4-2012.htm.

more fashion.at/mobile>

News from
April 2012
March 2012
February 2012
January 2012
December 2011
November 2011

subscribe
terms
imprint
(C) Sawetz, since 1996