A male nude in movement as expression of listening to music

On occasion of the Montreux Jazz Festival 2012 (29 June - 14 July), Swiss watch label Parmigiani presents the annual special men's and women's watch edition. The dial carries the festival poster's artwork which can be found on t-shirts and bags as well. This year, the artwork shows the image of a male nude in movement as expression of 'contemplative experience of listening to music' by US photographer Greg Gorman. The festival was founded 1967 by Claude Nobs. Already in the early 1970s, the festival's artwork became a theme (timeline on montreuxjazzlive.com/history). In 1986, Keith Haring and Andy Warhol created together Montreux' 20th anniversary poster.
The festival is open to all kind of music and is known for prominent guests like Carlos Santana, Aretha Franklin, Miles Davis or James Blake (video below). Today on 2 July 2012, Canadian musician and actress Alanis Morissette performs live on stage; on 5 July British singer, writer, producer M.I.A. - her controversial music video 'Bad Girls' received a lot of attention, 8 July Bob Dylan, 11 July Herbie Hancock, to name a few.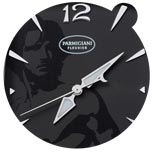 fig. original: Men's watch Kalpa XL Automatik, special edition 'Montreux Jazz Festival 2012' by Parmigiani. In 2007, the partnership between Parmigiani Fleurier and the festival began. In 2008, Parmigiani appeared for the first time as the main sponsor.

Video: 'Limit To Your Love' by James Blake, live at Miles Davis Hall on 5 July 2011. Find on montreuxjazzlive.com interviews with musicians, videos from live performances, the 'Live at Montreux Collection'...
Source: Original article with image and video on http://www.fashionoffice.org/culture/2012/parmigiani7-2012.htm.
more fashion.at/mobile>

News from
June 2012
May 2012
April 2012
March 2012
February 2012
January 2012

subscribe
terms
imprint
(C) Sawetz, since 1996