Solar watch with GPS presented by long jumper
In mid-November 2012, Russian long jumper and face of Seiko Darya Klishina presented new watch models on occasion of a press conference in Vienna.
One of the models is called 'Astron' (photo below). Astron is solar powered and provides data for the 39 world time zones via GPS. The time and space watch is not limited to one sex such as Seiko's product video shows.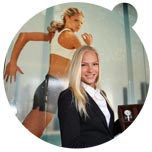 fig. original: Russian athlete Darya Klishina (born 1991) is holding the new watches in a box. She stands before the poster from the campaign which shows her running.
fig. below, left: Seiko Sales Director Austria Gregor Reiner and the label's ambassador Darya Klishina.
fig. right: Darya Klishina and Seiko General Marketing Director Rob Wilson.The images were taken on 16 November 2012 at the press conference at the restaurant MAK Österreicher in Vienna.

Video: Making of the Seiko commercial with women watch ambassador Russian long jumper Darya Klishina.
Source: Original article with images and video on http://www.fashionoffice.org/collections/2012/seiko11-2012.htm.

more fashion.at/mobile>

News from
November 2012
October 2012
September 2012
August 2012
July 2012
June 2012
May 2012
April 2012
March 2012
February 2012
January 2012

subscribe
terms
imprint
(C) Sawetz, since 1996