Jazz, swing and glam-leisure style
On 4 February 2012, Sita Murt has presented her new Fall/Winter 2012/13 collection 'Jazz Society' inspired by the glamorous 20s/30s and mixed with 70s leisure style during Mercedes-Benz Fashion Week Madrid. Highlights of the collection are the knitwear pieces - the speciality of the Spanish designer Sita Murt (born 1946 in Barcelona, studied textile design, known for being a globe-trotter), like a female pullover with glamorous stole-collar combined to male trousers.
Paloma Simón writes on Elmundo.es about the new collection of the international successful label Sita Murt (own shops in Paris, Ibiza, Bilbao... and represented worldwide such as at Galeries Lavayette or online on Yoox.com): "El jazz, el swing, la improvisación" son los fundamentos de la colección de Murt..."
And Sita Murt's collection fundaments jazz, swing and improvisations supported also the appeal of the comfortable glam style on the catwalk. The show opened with Broadway/Hollywood actor, dancer, singer Fred Astaire's 'Puttin' on the Ritz' - the famous song from the movie 'Blue Skies' from 1946. (Fred Astaire has recorded the song already in 1930. 'Puttin' on the Ritz' means to 'dress up' and relates to the Hotel Ritz in New York.) The full-length catwalk show is published on mercedesbenzfashionweekmadrid.tv.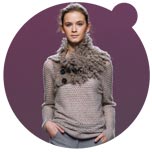 fig. original 1, original 2: Catwalk presentation of the 'Jazz Society' Fall/Winter 2012/13 collection by Spanish designer Sita Murt on 4 February 2012 during the Mercedes-Benz Fashion Week Madrid. Photos: (C) Foto Ugo Camera / IFEMA.
Source: Original article with images and video on http://www.confashion.com/fw2012/sitamurt2-2012.htm.

more fashion.at/mobile>

News from
January 2012
December 2011
November 2011
October 2011
September 2011
August 2011

subscribe
terms
imprint
(C) Sawetz, since 1996