Fashion widget with snow sports outfits
...unveiled in mid-November 2012 by adidas for the presentation of the current Stella McCartney 'Winter Wonderland' collection FW2012 which consists of sexy ski, snowboard, and après ski looks.
The practical widget (embedded on this page below) provides three styling tips from outerwear to underwear with closer views on the separate pieces, each with description such as technology, materials and colors. The widget button 'See Wintersports in Action' leads to the fashion-'action' video.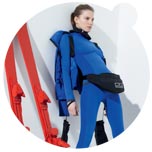 fig. original: Cobalt-blue jacket with same colored tights and shirt for below, combined with black bag, gloves, boots; 'Winter Wonderland' FW2012 adidas by Stella McCartney. The British designer says about the collaborative collection: "I love the winter sports collection! I think we are one of the few collaborations out there of this kind in the ski world that is really doing something that looks sexier and a bit more fashionable. We are working hard each season to have slightly more body conscious pieces that are for the downhill slalom look and then we have slightly looser pieces for the snowboarder type."
Additionally, Stella McCartney designed for this season pieces for tennis courts, training in gyms, and running outdoor in cold weather. Last mentioned items are not on view on the widget - watch the running collection for example on YouTube.
Source: Original article with image and widget on http://www.fashionoffice.org/collections/2012/stellamccartney11-2012.htm.

more fashion.at/mobile>

News from
October 2012
September 2012
August 2012
July 2012
June 2012
May 2012
April 2012
March 2012
February 2012
January 2012

subscribe
terms
imprint
(C) Sawetz, since 1996