The Trendletter is adjusted for mobile phones! You can subscribe.

March 2012 - IV: T-shirt Strip; Umbrellas & Lingerie; Jeans & Motorbike...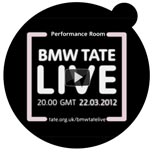 A dancer's t-shirt strip The performance 'Shirtology' by artist Jérôme Bel is the first event of the live broadcast 'BMW Tate Live'-series. It will be released without any 'filters'...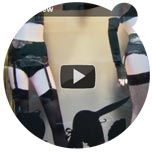 Umbrellas matching to lingerie Chantal Thomass speaks in an interview by State of Style about umbrellas that fit to underwear, her hotel room designs like a bathroom with night sky ceiling...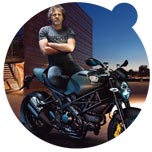 Jeans fitting to motorbike Renzo Rosso presents the new collaborative motorbike Ducati Diesel Monster and the Monster Diesel collection. He says "I was born a biker"...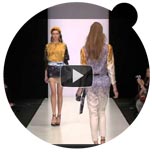 Viva Vox at Russia Fashion Week in Moscow The Russian fashion house Viva Vox is one of more than 50 labels which present their Fall/Winter 2012/13...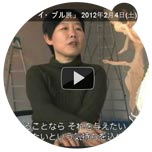 Lee Bul Lee Bul introduces in the 'Artist's Message'-video into the exhibition 'Lee Bul: From Me, Belongs to You Only' at the Mori Art Museum in Tokyo...

Selected SHORT MESSAGES (from the FashionFeeds; available even on twitter.com/byFASHIONOFFICE):
19 March - #Music free download (for one week) of 'Blood For Poppies' by Garbage from the new album 'Not Your Kind Of People' (May 2012)
19 March - #UrbanArt: public intervention by Luzinterruptus for more public accessible drinking #water #fountains
19 March - #Music: 'Yellow Halo' by Goldfrapp; new song on the recently released compilation 'The Singles'
18 March - Interactive exhibition space by Leigh-Ann Pahapill inspired by Austrian-German #stage, #costume #designer Caspar Neher
18 March - Milan Department of Culture, #Fashion, #Design announces new works by 1970s #art pioneer Marina Abramović
17 March - Feminist #art video 'Consumer Art' by Natalia LL, published on the website of the #film archive 'Filmoteka'
16 March - #Music: 'Malheur' from the album 'Melody Cut' by Ryzk a.k.a No-Bless (released on 1 March 2012)
16 March - #Fashion, #beauty, gender addicted #musician, artist John O'Regan (Diamond Rings) skipping rope in Pitchfork's series '60 Seconds Left'
15 March - #Music video 'Never Let Me Go' by Florence + The Machine with British actor Jamie Campbell Bower (Twilight Saga, Harry Potter)
15 March - Dandy Diary #fashionfilm 'Flip the Bird' dedicated to moral and censorship, directed by Arturo Martinez Steele

Imprint (C) Sawetz, since 1996