Subscribe to the Trendletter!
August 2012 - III: Cosmetical Design with Technological Effects; Interactive Design Bar; Fashion Critical...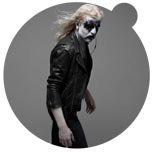 Cosmetical design with technological effects
An anecdote about the construction of music amplifiers gives insights into Jim Marshall's approach to design...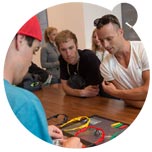 Eyewear from an interactive design bar
Athlete Oscar Pistorius during the Olympic Games 2012 at the custom eyewear bar at the Oakley Safehouse which is built inside London Design Museum...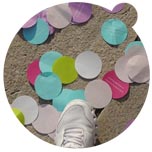 Fashion critical messages
"The designer: athlete or rock star?" was one of the messages printed on colorful paper dots which were spread in the MuseumsQuartier in Vienna...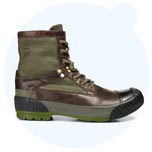 Men's footwear selection
..such as the boot in green waxed canvas and brown leather from the 'District'-line by G-Star. The design is inspired by Metropolitan City Life and...

Beautyme Hair Care Sight
The shampoo on the photo is not new. It was launched last year but the hair salon product was not for sale in Paul Mitchell's flagship salon in Vienna. Now,...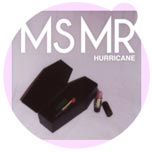 'Hurricane' by MS MR
Recently, the first ever video which shows the band was published on Yours Truly; the video was made during the live performance of their debut...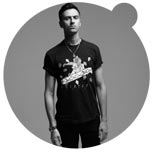 Boys Noize
On 6 October 2012, Boys Noize (electronic music project by Berlin-based producer, DJ, and label owner Alex Ridha) will start his EU/US live-tour...

Selected SHORT MESSAGES (from the FashionFeeds; FashionFeeds per Email subscription):
9 August - #MusicDownload 'Bed Time Stories' (Extended Live Version) by Amon Tobin (on tour in Sept in North America)
8 August - #EcoFashion SS2013 at the HKTDC Hong Kong Fashion Week
7 August - "We survived a momentary break down of my 65 mustang..." recalls Pony Boy the making of her #musicVideo 'Not In This Town'
7 August - State of Style video report about the rockabilly #fashion at the #LasVegas #car show
7 August - #Fashionoffice circulation in July: 148 countries/% - AT/16,84; US/15,10; NL/11,91; DE/9,56; FR/7,97;...
7 August - #Music premiere 'Ghosts' by The Presets from the upcoming album 'Pacifica' (10/11 September, Casablanca)
6 August - #Dance performance about memories, #photography, #music at ImpulsTanz Festival #Vienna (extended to 18 August)
6 August - #MusicDownload 'I Wanna Rob A Bank' by Jason Collett from the album 'Reckon' (25 September, Arts & Crafts)

Imprint (C) Sawetz, since 1996