Subscribe to the Trendletter!
September 2012 - V: Store Windows; Ski Fashion; Mountain Biking;...

Calzedonia's store-windows
...in Autumn 2012 will show photos with focus on the concept 'sensual nudity', inspired by the style of the 1960ies when tights became important...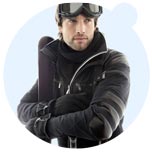 'The black flash from Kitz'
...was the nickname of the alpine skier and Olympic gold medalist Toni Sailer. Fashionoffice takes a view on the fashion line with his name...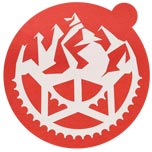 Mountain biking print
Swiss label Zimtstern's t-shirt 'Monta' carries a white print that shows a bike gear wheel and abstracted mountain peaks with glaciers...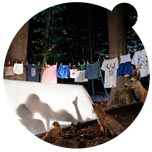 Hunting, loving... in the forest
...seen at the FW12/13 campaign by 'Tu Felix Austria'. The center theme of the campaign is 'voyeurism' - spying and stalking...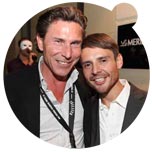 Karl Ammerer and Marcos Valenzuela
...of the Vienna-based label Tiberius have provided one of the most recognized shows and parties at MQ Vienna Fashion Week...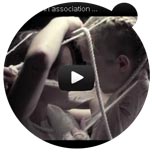 Music video 'Fitzpleasure' by alt-J
...features works by artist Wim Delvoye like sculptures and window paintings in Gothic cathedral style. Video director is Guillaume Cagniard...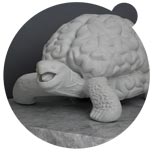 Jan Fabre's turtle brain
The artwork questions the competence of the human brain to 'move on' in thinking. It is on view at the gallery Mario Mauroner in Vienna...

Selected SHORT MESSAGES (from the FashionFeeds; FashionFeeds per Email subscription):
20 Sept - Support the Pussy Riot members via Amnesty International: "...the cathedral performance was a peaceful protest...
19 Sept - #MusicVideo 'Something Good' by alt-J from the album 'An Awesome Wave'
19 Sept - Top Trending Content (last 7 days, generated by AddThis tools on #Fashionoffice pages)
18 Sept - #Music for campaigns for #motorcycles and #fashion by Solebay Music
18 Sept - #Music 'Dark Doo Wop' by MS MR from the debut EP 'Candy Bar Creep Show' (14 September, Creep City Records)
17 Sept - #MusicVideo 'You're Not Pretty But You Got It Goin' On' by Band Of Skulls (single out on 4 November)
17 Sept - #FashionFilm for Fred Butler SS13, #music 'Bee In My Bonnet' by Two Inch Punch, directed by Elisha Smith-Leverock

Imprint (C) Sawetz, since 1996