Freeriders' outfits for mountains
...seen in the catalogue by Swiss board and bike wear label Zimtstern for the new men's bike sport collection 2013.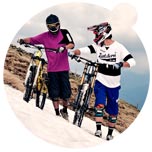 fig. original: Zimtstern's bike wear collection 2013 is presented by rider Andi Wittmann, shot in the Alp mountains of the Arena Wildkogel in Salzburg, Austria. Photo: Lukas Budimaier.
The environmental friendly (member of textile standard 'bluesign') in Zürich headquartered label developed for 2013 bike pants, shorts, jerseys and jackets for freeride, park, and all mountain.
From 29 August to 1 September 2012, the new Zimtstern bike items for 2013 will be on view at the Eurobike in Friedrichshafen (DE).
fig. original: Green 'Leo' bike shorts with quick-dry-finish, white/black/red 'Remote' long-sleeves jersey, black 'Polis' bike vest made from rip-stop material; Zimtstern Bike Men's Collection 2013. Photographer: Daniel Deak Bardos, (C) DDB.
Source: Original article with images on http://www.fashionoffice.org/collections/2012/zimtstern8-2012.htm.

more fashion.at/mobile>

News from
August 2012
July 2012
June 2012
May 2012
April 2012
March 2012
February 2012
January 2012

subscribe
terms
imprint
(C) Sawetz, since 1996