Swimwear inspired by Football World Cup Brazil 2014
In June 2013, water sports and recreational swim gear brand Aqua Sphere sent the first images of next year's styles (255!) for women, men and juniors. For 2014, Aqua Sphere's design team was inspired by the FIFA World Cup 2014 in Brazil and impressions of Latin-American zest for life, emotions, rich patterns and bright colors.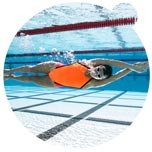 fig. original: Swimsuit 'Cindy' by Aqua Sphere, 2014. The swimsuit items are designed for active swim (training, aqua gym) and leisure (wellness, beach). The collection's colors are inspired by Latin-American culture and the Brazilian football event (12 June - 13 July 2014); the colors will be used for swim goggles, swim shoes and caps as well.
Annotation to FIFA World Cup Brazil 2014: the prelude of the 2014 FIFA World Cup kicks off today on 15 June 2013. Sony (official media partner of FIFA) will provide insights into the 2013 FIFA Confederations Cup and the six cities where the FIFA Cup will be held during the next two weeks (until 30 June). Via 'Road of Brazil', Sony's reporters will publish content from inside and outside the stadiums such as interviews, culinary views, and photos from hot spots. It is announced that the reporters Cammy, Manu and Nique will collect useful information for the ones who are interested in visiting Brazil in 2014.
Source: Original article with image on http://www.fashionoffice.org/collections/2013/aquasphere6-2013.htm.

more fashion.at/mobile>

News from
May 2013
April 2013
March 2013
February 2013
January 2013
December 2012
November 2012

subscribe
terms
imprint
(C) Sawetz, since 1996