'Biennale Venice 2013' series by Karin Sawetz, publisher Fashionoffice
Insights into La Biennale di Venezia 2013
Issue 1:
Introduction

Issue 2: Il Palazzo Enciclopedico
Issue 3: Walking on Water
Issue 4: A Pilsener space capsule?
Issue 5: The spiciest installation!
Issue 6: The perfect body?
Issue 7: A billionaire and a textile designer
Issue 8: Hairstyles
The spiciest installation!
At La Biennale di Venezia, the first room journalists entered after the 'check-in' at the press accreditation center (I followed the largest group of visitors) was the Latin American Pavilion by the Italo-Latin American Institute.
This year, the Latin American Pavilion is thanks to artist Sonia Falcone the spiciest of the whole Biennale. Her installation 'Campo de Color' is made of pepper, chili, curry, and other spices from around the world. The 'Color Field' reflects the Pavilion's general theme 'The Atlas of the Empire' which concerns geopolitical aspects of art. Sonia Falcone's installation references the sea routes and harbours - such as during the Middle Ages/Renaissance in Venice, where spices were traded and shipped from one continent to the other.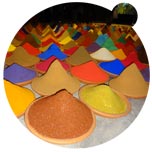 fig. original: The installation 'Campo de Color' ('Color Field') by Bolivian artist Sonia Falcone (born 1965, lives/works in Hong Kong, China) is made from spices and pigments (2012). It welcomes the visitors just after entering the Pavilion of Latin America-IILA (Italo-Latin American Institute) during La Biennale di Venezia (1 June - 24 November 2013) with mood boosting spicy scents and color arrangements. The pigments and spices are filled into natural clay plates; photo captured on the press day on 30 May 2013.
Source: Original article with image on http://www.fashionoffice.org/culture/2013/biennalevenice-spicy6-2013.htm.

more fashion.at/mobile>

News from
May 2013
April 2013
March 2013
February 2013
January 2013
December 2012
November 2012

subscribe
terms
imprint
(C) Sawetz, since 1996