Aqua sports athletes for men's skin care
In March 2013, Biotherm Homme presented the three faces of the label's 'Live like a Man 2013' campaign for men's skin care products.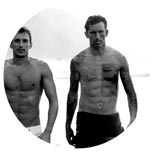 fig. original from left: The Biotherm Homme faces 2013 are the aqua sports athletes Youri Zoon, world champion in kiteboarding 2011 and 2012 (the Dutch surfer will appear in campaigns for Biotherm Homme 'High Recharge' and 'Total Perfector'; video below), in the middle, Spanish triathlete and adventure racer Josef Ajram for 'Force Supreme Youth Architect Serum' (Fashionoffice reported on Beautyme, article 'The tattoo of an athlete and skin care'), and right on the image, freediving world champion Guillaume Néry who appears on the 'Aquapower' ads. Currently, Guillaume is involved into the documentary 'Attention. A Life In Extremes'. The film is announced on Kickstarter as critical analysis of extreme sports. The approach of the documentary is explained on the movie's website as follows: "The process, the apparatus and the necessary support, which are crucial for success in sport, will be explained. At the same time, however, it will be important to explore, the difficulties of economic survival and the resulting need for contemporary media stylization."
Video: Dutch kiteboarding world champion (2011, 2012) Youri Zoon in the Biotherm Homme campaign 'Live like a Man 2013'.

Source: Original article with image and video on http://www.beautyme.com/skin/2013/biotherm-homme3-2013.htm.

more fashion.at/mobile>

News from
February 2013
January 2013
December 2012
November 2012
October 2012
September 2012
August 2012

subscribe
terms
imprint
(C) Sawetz, since 1996