Campaign film for new men's fragrance inspired by Spaghetti Western and Roman gladiators

Today on 7 February 2013, Bulgari unveiled the making-of the campaign film 'Dvels' for the new men's fragrance 'Man Extreme' (video below).

Director Matteo Garrone explains that the inspiration for Bulgari's 'Man Extreme' campaign film comes from the signature 1970s Italian Western movies and the thrilling situation of a duel. The electro Spaghetti Western inspired music track 'Theme of Rome' by Danger Mouse and Daniele Luppi fits great to Matteo Garrone's idea of a dangerous-cool-elegant setting - as far as it is unveiled via the trailer. The film was shot at the Museo della Civiltà Romana (the location applies the director's intended gladiator-arena touch to the Western theme) with the Australian actor Eric Bana in the role of the 'Man Extreme'. Three mythological animals appear at the unveiled pictures. In the trailer, Bulgari attributes courage to the lion, wit to the eagle, and seduction to the snake.

Well, the snake could also stand for a sly plot - Matteo Garrone mentioned 'ambush'...

We will see tomorrow on 8 February 2013 when Bulgari releases the campaign-film for 'Man Extreme'. The black and white images of the film were shot by Daniele Ciprì, photographer of the campaign is Peter Lindbergh, stylist: Robert Rabensteiner, art director: Riccardo Ruini.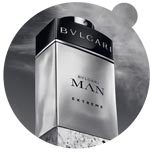 fig. original: Creative packshot Bulgari 'Man Extreme', 2013.
Video: Making-of the film 'Dvels' for the new men's fragrance 'Man Extreme' by Bulgari.
Source: Original article with image and video on http://www.beautyme.com/fragrance/2013/bulgari2-2013.htm.

more fashion.at/mobile>

News from
January 2013
December 2012
November 2012
October 2012
September 2012
August 2012
July 2012

subscribe
terms
imprint
(C) Sawetz, since 1996