Blood-red rubber, dark-black laminated cotton, bonded calfskin

...seen at Burberry's menswear Fall/Winter 2013/14. The motto of the collection is 'I Love Classics'.

Chief Creative Officer Christopher Bailey interpreted the classical Burberry trench coat for rainy days in velvet-finish rubber in oxblood. This coat (image below, middle) is one of the highlights of the FW2013/14 collection which is made of classical forms like caban, trench or worker jacket and distinguished materials.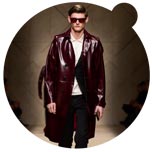 fig. original (on view rubber trench coat): Bonded calfskin caban with contrasting collar (details), translucent rubber trench coat with velvet appeal (details), worker jacket made from laminated cotton (details); Burberry Menswear FW2013/14 runway views from Milan, captured on 12 January 2013. Make up by Wendy Rowe, hair by Matt Mulhall.
Video: Burberry Prorsum Fall/Winter 2013/14 menswear on the catwalk in Milan on 12 January 2013. Find the tracklisting of the show music such as Amy Macdonald's songs 'This is The Life' and 'Pride' on YouTube. The songs by British musician Amy Macdonald start at video minute 4:35.
Source: Original article with images and video on http://www.confashion.com/fw2013/burberry1-2013.htm.

more fashion.at/mobile>

News from
December 2012
November 2012
October 2012
September 2012
August 2012
July 2012
June 2012
May 2012
April 2012
March 2012
February 2012
January 2012

subscribe
terms
imprint
(C) Sawetz, since 1996