Austrian women in Great Britain
Tomorrow on 16 May 2013, the Austrian born, since 1985 in London living and working photographer Marion Trestler will launch her photo/oral history book 'Destination UK - Women Immigrants from Post-War Austria' at the gallery base-level in Vienna. The book launch is accompanied by an exhibition (until 8 June) of the book's documentary photo portraits of women who left Austria in the 1940s, 50s, early 60s to settle down in Great Britain.
The results of over three years of research on the circumstances which caused the women's migration - from love to other reasons, the changes of the women's motivations from the 40s to the 60s, and today's social environment of 27 Austrian women in UK, are filling the pages of Marion Trestler's book with portrait photos and interviews which capture oral histories such as the memory of Agnes from Carinthia who speaks about her migration in 1948 after she saw an advert for working in the textile industry in Great Britain.
"My intent has been to paint an authentic portrait of each woman, in pictures and words, and to create a tribute to each of them whilst preserving a part of contemporary history in the form of a book," says Marion Trestler about the content of the 136-pages of her (German/English language) book 'Destination UK'.
Later this year, the photography exhibition will travel to the Austrian Cultural Forum in London where the book will be launched in November 2013.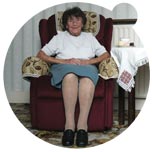 fig. original: Portrait of Erna Robinson, from the photo/oral history book 'Destination UK - Women Immigrants from Post-War Austria' by Marion Trestler, published in 2013. Photo: (C) Marion Trestler 2013.

Source: Original article with image on http://www.fashionoffice.org/culture/2013/destinationuk5-2013.htm.

more fashion.at/mobile>

News from
April 2013
March 2013
February 2013
January 2013
December 2012
November 2012
October 2012

subscribe
terms
imprint
(C) Sawetz, since 1996