Vienna's new culinary hotspot with urban vintage interior and classical-modern crossover cuisine
On 19 September 2013, the new culinary hotspot hochmann's in Vienna invited to the opening party into its urban-art space which is outfitted with comfortable vintage furniture selections by the interior designers of Artificium.
The 7-metres high restaurant offers currently room for the exhibition of photos by Christian Maricic from the coffee table-publication 'Pandoras Dirty Picture Box' by erotic book author Janina Lebiszczak-Schuster. It is announced that the restaurant managers Hannes Hochmann and Andreas Schuster will continue their art activities in future with exhibitions of contemporary artists. Hochmann's is probably the most reviewed new restaurant these days in Vienna.
Today (23 September), the latest carte (changes with seasonal ingredients from the region) by chef de cuisine Stephan Bernard (worked before at the well-known Viennese restaurant Fabios) was published via Facebook. The culinary style of hochmann's can be described as classical Austrian cuisine in modern interpretation.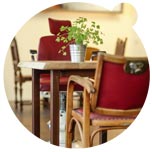 fig. original: Hochmann's Bar Restaurant at Neutorgasse 16 in the Inner City of Vienna (Google map).
fig. original: Hochmann's CEOs Andreas Schuster and Hannes Hochmann with journalist/author Janina Lebiszczak-Schuster at bar/restaurant hochmann's opening party on 19 September 2013 in Vienna. Photos: (C) leisure.at/Stefan Joham.
Source: Original article with images on http://www.fashionoffice.org/cuisine/2013/hochmanns9-2013.htm.

more fashion.at/mobile>

News from
August 2013
July 2013
June 2013
May 2013
April 2013
March 2013
February 2013
January 2013

subscribe
terms
imprint
(C) Sawetz, since 1996