Fashion collection 'The New World' inspired by 15/16th century Ottoman captain, geographer, cartographer
On 5 July 2013, Asli Filinta opens the 'Istanbul Next - Future of Fashion Design. Made in Turkey' runway shows at Berlin Fashion Week where in sum four designers from Turkey will represent Istanbul as bridge between Asia and Europe.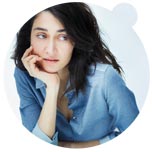 fig. original: Portrait photo of Asli Filinta (studied at Parsons The New School For Design in New York, founded her label in 2008). The new collection Spring/Summer 2014 carries the name 'The New World' and is inspired by the designer's own observation of culture and history. Debut of 'The New World' on 5 July 2013 at Berlin Fashion Week.
'The New World' references the cartographic work - the 'Book of Navigation', of 15th/16th century captain and geographer Piri Reis (born between 1465 and 1470) with prints derived from his maps for navigating the sea. Asli Filinta transferred Piri Reis' portolan charts and cruise guides from the map into fashion prints. Currently (end of June), there exist no preview images of the new fashion items; it is announced that the prints are composed in a way for reading "the map of 'The New World' by just looking at them."
The show Asli Filinta SS2014 will start at 14:00 on 5 July 2013 during Mercedes-Benz Fashion Week Berlin.

Source: Original article with image on http://www.fashionoffice.org/collections/2013/istanbulnext6-2013.htm.

more fashion.at/mobile>

News from
June 2013
May 2013
April 2013
March 2013
February 2013
January 2013
December 2012
November 2012

subscribe
terms
imprint
(C) Sawetz, since 1996